In the Night Garden Live will be visiting 22 venues all over the UK from 3 July to 14 October this year. Book now for something to look forward to this summer!
Good news, you can now book your tickets for In the Night Garden Live 2021! Find your nearest venue and book now for best seats through our ticketing partner Family Tickets, where you can choose your performance date and time, view the seating plan and book your tickets online.
You can also sign up to our newsletter now to get your nearest venue info and lovely videos by email.
Enter your postcode below to find your nearest venue and book your tickets now with our official ticketing partner Family Tickets:
---
---
Watch this video before you book
Please watch this website walk-through before you book your tickets. It walks you through the whole booking process on Family Tickets' website, our official ticketing partner, and explains everything you need to do to complete your order.
---
Money-Back Guarantee
When you book your tickets you can have confidence with a money-back guarantee for your booking. If you have coronavirus symptoms, have tested positive for coronavirus, need to self-isolate or quarantine you just need to let us know before the start time of your performance and we will refund your full order, including any booking fees.
In the event of a venue being affected by a local lockdown we will follow Government advice. Our customer service team will get in touch with you ahead of the performance with an update about your booking.
---
Join Igglepiggle, Upsy Daisy, Makka Pakka and friends at In the Night Garden Live 2021!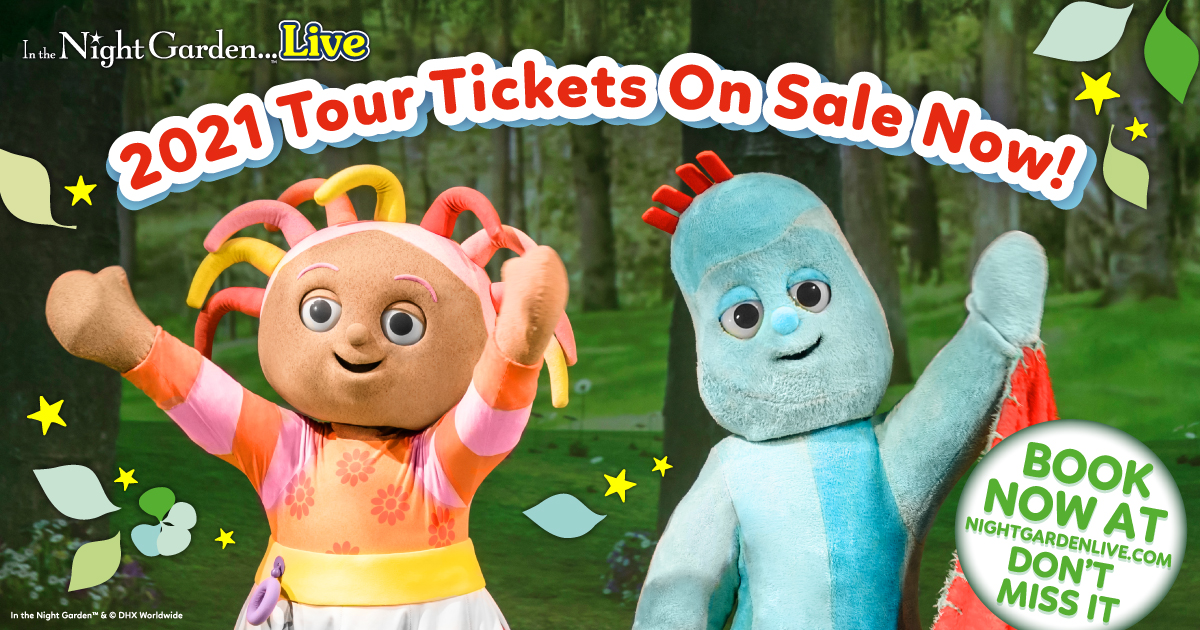 Come and join us at the world's only In the Night Garden Live show - an amazing musical theatre experience for all the family.
You'll see Igglepiggle, Upsy Daisy, Makka Pakka and friends beautifully brought to life with full-size costumes, magical puppets, and enchanting music.
You'll also see my favourite part of the show - when the world's first and only amazing flying Pinky Ponk FLIES off the stage over the heads of astonished audiences. Parents describe the moment as "breathtaking", "amazing" and "the highlight of the show"!
---
About the show
The show will be just under an hour long, with no interval. In Igglepiggle's Busy Day, Igglepiggle loses his friends and follows their funny noises until he finds them all.
There are only between 4 and 6 performances per venue and performance times vary depending on the date and venue you are visiting. Normally performances start at 10am, 1pm or 4pm.
---
We're here to help you
We're here to help make sure everything about your visit to In the Night Garden Live goes well. So if you have any questions or experience any problems please visit our help pages, reach us through our contact form, email helpdesk@nightgardenlive.com or call us on 0330 120 0123. We're available Mon - Fri 10am - 4pm (except bank holidays).
---
Amazing memories!
Now in its 12th year, In the Night Garden Live is one of the UK's favourite family events. Over 1 million people have seen it so far and it gets 4.8 out of 5 stars based on 12,844 parents' reviews.
There are other shows for young children, but as The Independent wrote, "there's nothing quite like In the Night Garden Live." 
Pip-pip, onk-onk!
---
Don't forget to share this page with friends
Thanks for sharing - most people find out about In the Night Garden Live from friends like you!