We've postponed the April performances of In the Night Garden Live - if you booked with Family Tickets they will have already been in touch with you. Other ticket holders should get in touch with their point of sale to arrange rebooking.
We know that when we are able to perform again some of our audience members - especially those in vulnerable groups - will need greater flexibility and we are working with our venues to have that in place.
In the meantime, you can watch last year's show on YouTube. We'll be sharing more videos over the coming weeks, so subscribe to the Family Tickets YouTube channel to stay in touch.
We hope your family stay healthy and happy, and hope to see you at a show soon.
You can also sign up to our newsletter now to get your nearest venue info and lovely videos by email.
Enter your postcode below to find your nearest venue and book your tickets now with our official ticketing partner Family Tickets: 
---
---
See Igglepiggle and Upsy Daisy live on stage!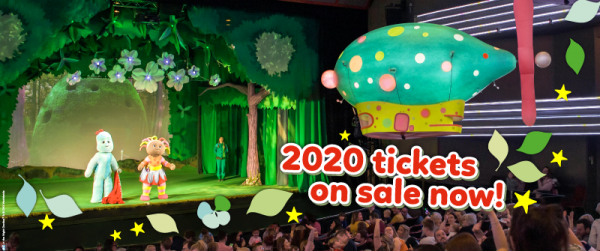 Join Igglepiggle, Upsy Daisy, Makka Pakka and friends at In the Night Garden Live for a brand new show on their UK 2020 theatre tour! You'll see all your favourite characters beautifully brought to life with full-size costumes, magical puppets, and enchanting music.
We've made a new trailer to tell you more about the new show, with some lovely reactions from little ones and their parents. Watch it now to find out more.
---
How to Book
Enter your postcode above to find a venue near you. Then click Book Now to choose your performance date and time, view the seating plan, and book your seats online with our official ticketing partner Family Tickets.
Ticket prices vary depending on the venue you choose and where you want to sit in the theatre. Ticket prices will vary up to £23.50.
There will be lower-priced Child tickets available at every venue. The age range and prices for these tickets varies depending on the venue you choose. When selecting your tickets, a drop-down option will appear for you to select the Child ticket option.
---
About the Show
The show will be just under an hour long, with no interval.
Performance times vary depending on the date and venue you are visiting. Normally performances are on at 10am, 1pm or 4pm, but please check our website carefully when booking your tickets!
---
Amazing memories!
Now in its 11th year, In the Night Garden Live is one of the UK's favourite family events. Over 1 million people have seen it so far and it gets 4.8 out of 5 stars based on 12,844 parents' reviews.
There are other shows for young children, but as The Independent wrote, "there's nothing quite like In the Night Garden Live." 
Pip-pip, onk-onk!
---
We're here to help you
We want to help as many people as possible book tickets early for this brand new show. So if you have any questions or need help please don't hesitate to contact us. You can email any time or call us on 0330 120 0123. We're available Mon-Fri 9am-6pm and 9am-5pm weekends and bank holidays. 
---
Your amazing day out is only an email away…
Get venue info, lovely videos and more - sign up now!
---
Don't forget to share this page with friends
Thanks for sharing - most people find out about In the Night Garden Live from friends like you!